Sappho Cosmetics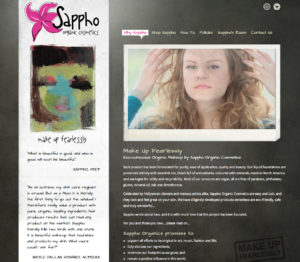 Sappho Cosmetics is a cosmetics company with a focus on natural, chemical free ingredients.
Sappho is an e-commerce site with a fully featured shopping-cart. Features include:
Live updating Facebook feed;
embedded Google maps for store locations;
blog
embedded fonts
social media links: Facebook, Twitter & LinkedIn
jQuery slideshow that plays on tablets and mobile devices.
Website: sapphocosmetics.com